Not putting this on my f-list because it's not fandom-y, and some of it was on my other LJ, but now that I can't use that one anymore, I should store them here. In the past year and a half I've completed 5 paintings. I can hardly believe it! Before that I hadn't completed even ONE in about 14 or 15 years. I definitely want to keep it up. Maybe I'll post new stuff over here when completed.

I'll post in chronological order behind separate cuts. All of them are G-rated, done in acrylics. I've taken some liberties (esp. with the last one) but all of them are very much copying something else. I'm not confident in my ability to create "true" art. Maybe someday I will be?

They're kinda blurry :( Only crappy cell phone pics taken. They all look so much better in person... though even then, they're best at a distance!




My trip to Out of Africa in December 2012 inspired this one and got me back in the groove. Thinking about doing another tiger, an orange one.





A very pretty jungle snake! I made him/her pinker than reality :D
The snake and the tiger are both in my living room.





She had asked me over a decade ago to do one of her and her then-fiance. I never did. They're no longer together, so I'm glad I didn't. Her daughter will always be her daughter, though! She's four now. In the photo I copied she was one.





She was redecorating her bedroom in a beach theme and found this painting online, but couldn't find anywhere to buy it, or one like it. It looked easy enough so I offered to do it. It was big, but other than that it WAS pretty easy. And she loved it! She was going to pay me for time & materials but I gave it to her for Mother's Day.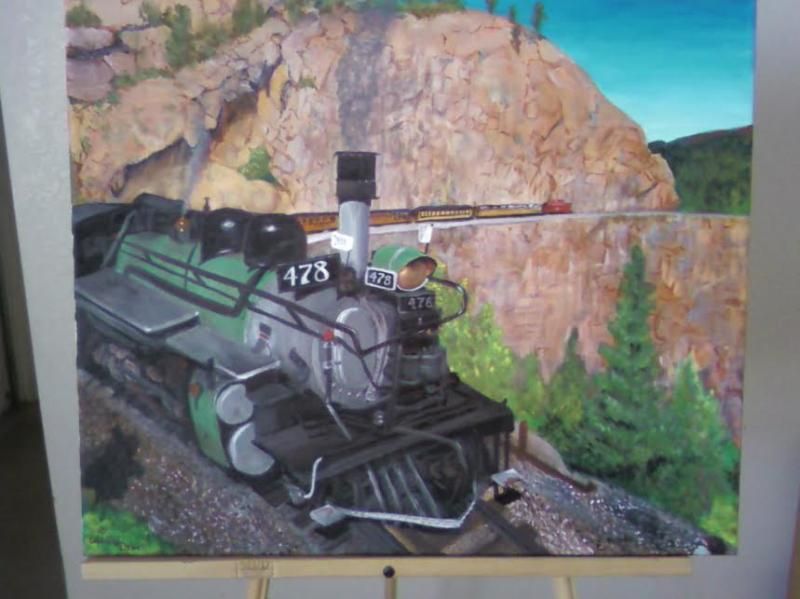 ...for Father's Day! This is the train we rode on when we went on vacation to Colorado in 2011. He loves trains and has just started working on his models again. This train hangs over where he's setting up everything. Definitely the hardest of these 5. It took me ages. Everything about it was challenging and I made so many mistakes, some of which are still there...but it came out well enough that he didn't notice :)